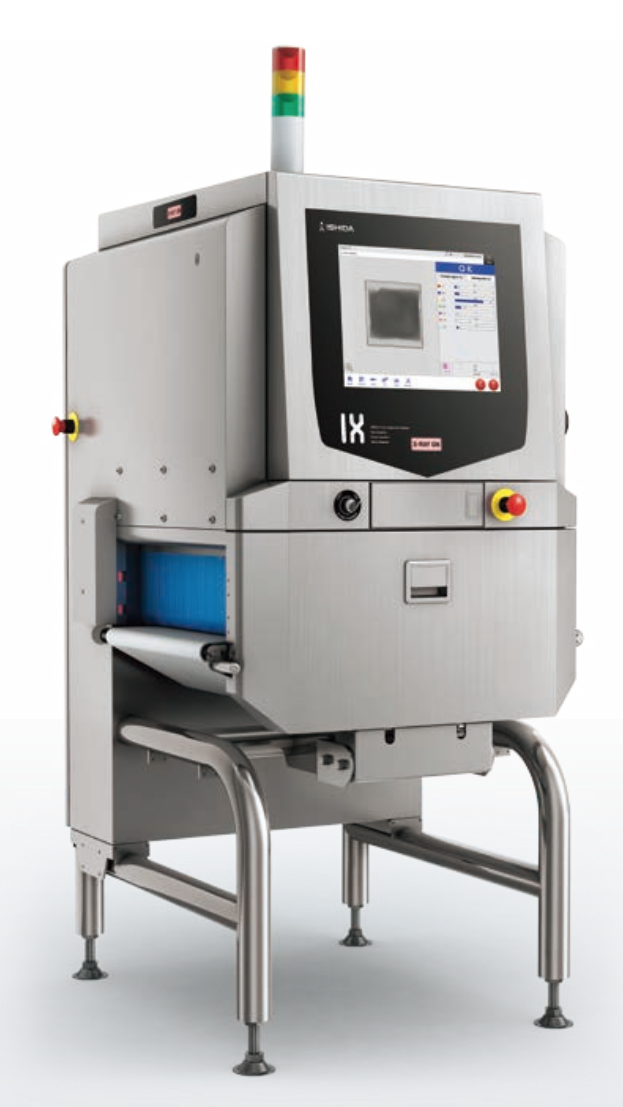 Finally, an X-Ray System You Can Afford
Ishida's newest EN-Model utilizes the same technology and Genetic Algorithm that customers have come to trust, housed in a newly constructed design, that has lowered the entry price for X-Ray in the marketplace.
This system is compliant with FDA Title 21 CFR 1020.40 for cabinet X-Ray Systems
Featuring:
Protective Tungsten Curtains.
Variable Speed, Brushless DC Drive Motor.
Tool-less Cleaning.
.4mm diode pitch standard.
5 levels of image processing .
Genetic Algorithm for difficult to detect contaminants.
Weight estimation.
Detection of missing or broken products.
15″ Color touch screen.
Complete statistics package standard.
Fully-automatic product set-up.
Star Packaging Machinery is a Texas based business located in Austin, TX serving Texas, Oklahoma, Louisiana, Arkansas, Missouri, and Kansas.
Star Packaging is a private, family-owned business specializing in Filling, Packaging and Product Inspection equipment sales and support. Our family has been working with clients large and small in the United States on Checkweigher, Metal Detection, X-Ray, Vision, Case Packing, Cartoning, Shrink, and Palletizing projects since 1984.
Ishida X-Ray is distributed and serviced by Heat and Control in the United States, and Star Packaging has been chosen by Heat and Control to be their exclusive partner in Texas, Louisiana, Oklahoma, Arkansas, Kansas and Missouri for support of the Ishida X-Ray product line. 
Our employees have a large amount of experience dealing with manufacturing clients in the food, pharmaceutical, personal care, and contract packaging industries.
If you are looking for better metal detection, detection of rock, detection of glass, detection of bone, or most contaminants that can sink in a glass of water, then you can be confident that the Ishida X-Ray system will be fully sufficient for your quality control procedures.
If you have questions, would like to arrange a call to discuss, or would like a representative to visit you, please:
Why is an X-Ray System used in Food manufacturing?
X-Rays are used to look through products to see what is on the inside. Contaminants, missing items, and product abnormalities can be easily observed through an x-ray system.
What contaminants can an X-ray system pick up?
The contaminant must be more dense than the product itself. As a general rule, if the product can sink in a glass of water, it has a chance to be picked up in many applications.
Common items that are detected by X-Ray include: Stones, Ceramics, Glass, Metal, Bone (density dependent), Plastic (densitity dependent), Rubber (density dependent)
Common items that are not detected by X-Ray include: Wood, Insects, Hair, String, Fabric, Seeds, Cardboard, Paper, plastic liners and other light plastics, Soft Rubber.
Anything that does not float in water, generally can not be detected.
What affects the sensitivity of X-Ray systems?
The difference between the contaminant and product in thickness, density, and atomic mass.
What is the product effect in X-Ray?
Variations in density in the product itself.
How does a food X-Ray System work?
All X-Ray systems are made up of the same 3 parts: generator tube, line sensor, and conveyor. Voltage is used to heat electrons, which create a current from the cathode to the anode, often measured in mA. The higher the voltage, the faster the electrons will go. The electrons hit a tungsten plate on the anode creating a reaction. The electrons decelerate rapidly, creating x-rays, which leave through a small opening in the tube.
The tube generates heat. The higer the current, the hotter the tube gets. By keeping the tube cooler it will last longer and provide better images. Some systems use air conditioning to help keep the temperature constant.
A line sensor absorbs X-Ray photons. It is made of up pixels (diodes) that are spaced equally throught the line sensor. The size of the pixels normally indicates maximum performance of a machine under favorable conditions. In order for the machine to see the contaminant it must touch 2 pixels at the same time.
The summary of this process is this: an X-Ray beam is passed from the tube, through the item to be inspected, to the line sensor. The line sensor picks up the photons that can get through and creates an image. The more dense that the product is, the less x-rays will get to the line sensor, and the darker the image will be. Less dense products or parts will produce lighter images.
Where is an X-Ray normally used?
Generally, clients will place the x-ray in line during bulk flow production, before the product has been packaged but after it is made, after the product has been packaged, or in the case after sealed.
Checking during bulk flow saves money on packaging, and reduces amount of wasted product upon rejection.
Checking once the product has been made saves packaging, and allows for quality checks (broken item, missing product).
Checking after packaging removes any chance that the contaminant could enter the product, and allow for qualty checks (weight estimation, missing item)
Checking in the case, can also insure everything is properly included.
Each option may require different size systems, impacting overall investments, and has varying senstivity capabilities.
Normally rejecting earlier in production saves more money than at the end of the line.
What differentiates X-Ray suppliers?
Generally, most suppliers all can find an option to start at the same point with the image that is received. The magic is in the algorithms that filter that image.
What differentiates Ishida from other X-Ray suppliers?
Normally, manufacturers have their set 3 or 5 standard algorithms that filter the X-Ray image. Ishida has these as well, but adds an additional unique Genetic Algorithm, that takes the power of algorithm creation, and puts it in the customers hands.
What is the Genetic Algorithm?
The Genetic Algorithm image processing from Ishida allows the customer to pass "good" and "no good" samples through the machine several times and the machine can learn how to best find these specific contaminants in the product. If the product varies in density, the machine can learn these normal changes and filter better, increasing detection capabilties.
Other machines use algorithms, but if they are not working at their highest capabilities, normally the product needs to be sent to the manufacturer for review or (more often) will require a technician visit to adjust.
The Genetic Algorithm also ensures that clients have the best specific algorithm for their product and plant, because it was created on-site, in their production.
This is a patented feature of Ishida.
What are the specific benefits Ishida customers have seen vs. competition?
No need to send product or contaminant away for adjustment.
No requirement of bringing technicians on-site for machine algorithm adjustment.
Ease of use.
Improved detection rates, and capabilties where others fail.
What is the lifetime of Ishida's tubes and line sensors?
X-Ray tubes and line sensors life expectancies vary based on inspection settings. If you have a higher tube voltage you will have a lower life expectancy, a lower tube voltage will last longer.
Ishida has a guarantee of 10,000 hours at any level, and also offers a refurbished tube program to lower cost. Lower tube voltages will last much longer with some tubes in the field lasting 30,000 hours and counting.
What difference does tube voltage make?
Lower tube voltage is able to show a greater difference between elements, especially with lower density products. The product will stop more of the x-ray beam with lower voltage.
A unit with variable kV and current will offer advantages over constant systems, especially for lower density products.
What other features, beyond contaminant detection, does Ishida's X-ray system provide?
Masking: allows the operator to ignore parts of the packaging so that the machine doesn't incorrectly detect them as contaminant.
Pattern Masking: allows the operator to exclude areas in the inspection area and count if any are missing. (Good for metal clips in sausages, and other similar applications.)
Weight Estimation: provide an estimation of product weight by density. (not as accurate as scales, but reliable)
Counting: Can count components within a kit or case. Can reject packages with missing items.
Product Quality: Can detect flaws in product, such as broken or chipped items.
Fill Level: Specifically on homogenous products, one can see level of fill based on differing thickness/density within a package.
Product Area: Reject mis-shaped products.